The Studio and Gallery
Serpentine Glass
We are located in Glide, Oregon nestled in the land of the North Umpqua River, known for it's scenic beauty and fish. The name Serpentine Glass originates from the beautiful rocks found on the property. The tranquility of the studio and fluid nature of glass is what inspires my work.
You are invited to visit the studio and gallery anytime, please make an appointment. Studio operation is variable. I don't normally blow in the summer, too hot. The studio is at the top of a private gravel road, fairly steep.
There is a great deal to see on the property, studio, and on-site gallery. Wild flowers are abundant from spring to fall. The rare Calochortus umpquaensis (Umpqua mariposa-lily) found only in Douglas and Josephine Counties blooms on the property from late May to late June. The annual Glide Wildflower Show is in April.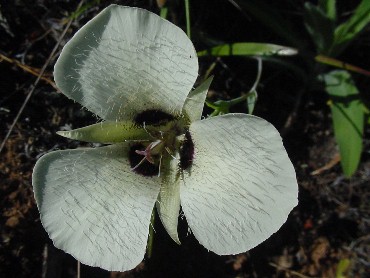 This rare and unusual Cat's Ears has hairy white petals shading to purple brown. The plant grows from a bulb, is serpentine endemic, and found in open woodlands.